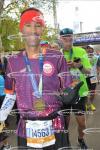 Après le marathon de Berlin, comme il nous l'avait annoncé, nous retrouvons Christophe sur un 2ème MAJOR cette année à un mois d'écart !!!
La veille il a aussi participé aux 5 km de la "Abbott Dash to the Finish Line 5K" qui est une course qui part du quartier de l'ONU pour aller jusqu'à la ligne d'arrivée du marathon, c'est souvent l'occasion pour les coureurs de faire une course en famille ou avec les accompagnateurs donc de partager un moment festif...
Bravo à lui pour sa course sur un des majors les plus difficiles...
MARATHON :
13677ème : Christophe DALLERY : 3h55'22"